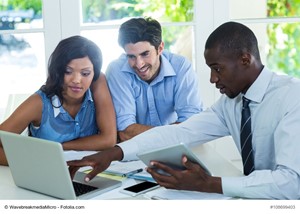 Being in the market for a new home can be both an exciting experience and a scary one! It not only represents a huge financial commitment, but it also forces you to step out of your "comfort zone."
That's especially true if you're a first-time home buyer. When you make the switch from being a renter to a home owner, you no longer have the "luxury" of depending on your landlord for repairs, yard maintenance, or help with plumbing emergencies. Now, when the AC quits or the furnace conks out, the responsibility (and cost) of getting it fixed rests squarely on your shoulders!
Fortunately, there are steps you can take to minimize the possibility of incurring major expenses during the first couple years of owning a home. While there are (usually) no guarantees that household mechanical systems won't fail or that other crises won't befall you as a new homeowner, there are choices you can make that will reduce the chances of being saddled with unexpected expenses.
Buying a home with a newer roof, energy-efficient appliances, updated HVAC system, and a dry basement are four ways you can sidestep many predictable problems down the road. Wear and tear will eventually take its toll on everything from hot water heaters to microwave ovens, but if you can postpone having to replace appliances, roofs, and climate-control systems for several years or more, it will be a lot easier on you and your budget!
So all things being equal, home ownership will be more pleasurable and affordable if you choose a home with recent upgrades, replacements, and improvements -- preferably, those done within the past five or ten years. Besides comparing the maintenance history of houses you're considering, there's also the essential step of hiring an experienced structural inspector. When you've narrowed down your house-buying possibilities to one preferred home, a property inspector can help you identify "red flags" and potential problems before you close on that house.
As your real estate agent will probably tell you, if any major problems are identified in the home inspection process, you may be in a position to renegotiate the agreement or withdraw your offer, entirely. Since legalities are often complex and every real estate transaction is different, however, it's always essential to consult with an experienced real estate attorney whenever questions, problems, or complications arise in a real estate purchase or sale.
While it's a good idea to "expect the unexpected" when purchasing and moving into a new home, it pays to work with a team of trusted advisors. Working with a seasoned real estate agent, a knowledgeable real estate attorney, and a reputable property inspector will help make sure that your experience is both satisfying and relatively problem free! Knowing what you want and being adamant about what matters most to you should also serve you well in the house buying process.