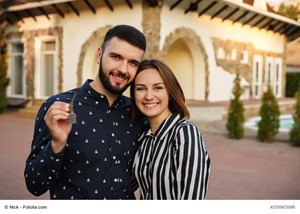 Let's face it – there is no shortage of buyers competing for the top residences. However, there are many things you can do to rise above the homebuying competition, and these include:
1. Review the Local Housing Market
The housing market fluctuates. In some instances, the housing market may favor buyers. Or, in other cases, it may favor sellers.
If you analyze the local housing market closely, you can differentiate a buyer's market from a seller's market. You then can map out your homebuying journey accordingly.
To distinguish a buyer's market from a seller's market, you may want to look at available houses in your city or town. If homes are selling just days after they become available, a seller's market may be in place. Comparatively, if houses linger on the real estate market for an extended period of time, the real estate sector likely favors buyers.
2. Get Pre-Approved for a Mortgage
With pre-approval for a mortgage, you will know how much you can spend on a house. Then, you can narrow your house search to residences that fall within your price range.
To get pre-approved for a mortgage, you should meet with a variety of lenders. These financial institutions can teach you about many mortgage options and help you choose home financing that suits you perfectly.
Of course, selecting a mortgage can be difficult, regardless of whether you are a first-time or experienced homebuyer. But if you ask mortgage questions and perform a comprehensive home financing analysis, you can choose the right mortgage without delay.
3. Establish Homebuying Criteria
Homebuying criteria is a must, particularly for those who want to seamlessly navigate the property buying journey. Because if you enter the real estate market with homebuying criteria in hand, you can speed up the process of finding your dream residence.
As you craft homebuying criteria, you should try to define your dream house. Think about the features you want to find in a home. You next can include these features as "must-haves" on your list of homebuying criteria.
In addition, consider where you want to reside. If you hone your house search to residences in a select group of cities and towns, you may be able to quickly discover a great home that you can enjoy for years to come.
For those who require extra help during the homebuying journey, you may want to hire a real estate agent, too. In fact, with a real estate agent at your side, you can receive in-depth assistance as you pursue your ideal house.
A real estate agent understands what it takes to navigate any housing market, at any time. He or she will help you search for residences that match your expectations. Plus, if you have any homebuying concerns, a real estate agent will address them right away.
Gain a competitive advantage over rival homebuyers – use the aforementioned tips, and you accelerate the process of finding and purchasing your dream residence.